If you're looking for the serenity of rural life, but don't want to venture too far from the city, Burrillville, Rhode Island may be the place for you.
Nestled in the northwest corner of Rhode Island, the quiet town of Burrillville borders both Massachusetts and Connecticut. It's about 20 minutes from Providence, 45 miles from Boston and just 190 miles from New York City.
"It's an old mill town with lots of history," said Kazantzis Real Estate Agent Keri Roy, who grew up in Burrillville. "It's a quiet, rural town that is great for families."
Roy said each year, the town puts on an arts and crafts festival right by the waterfall in Harrisville.
A Step Back in Time
For those who love history, The Bridgeton School is a little two-room schoolhouse that - while it no longer serves as a school - still stands and is registered as a historic landmark.
The Assembly Theatre - which was built by a mill owner for the people in town in 1934 - is still in operation today hosting plays, concerts, and other performances throughout the year.
While the building is owned by the town, the Patrons of the Assembly and Assembly ACT continue to work tirelessly to keep the arts alive in Burrillville.
A Nature-Lover's Paradise
Burrillville has countless options for people who love the great outdoors.
"There is plenty to do outside. We have a bike path, hiking trails, and several ponds and lakes for boating, fishing, swimming, etc," Roy said.
For those who love to fish, Wallum Lake is a 208-acre body of water that is stocked with trout several times a year. Partially located in Rhode Island's Buck Hill Management Area, large parts of the shoreline are protected and undeveloped.
For cyclists, there's the Blackstone River Greenway - which includes a 48-mile long bikeway connecting Worcester, Massachusetts with Providence.
Sports are also a big part of town.
"The high school is one of the few with a hockey rink, it gets opened to the public in the winter for family skating," Roy said. "Hockey is a big sport in town."
For the sportsman, there's Addieville East Farm - which is popular for hunting, clay shooting, and fly fishing.
In fact, former New England Patriot Offensive Lineman Matt Light holds a tournament at Addieville every year called the "Celebrity Shoot-Out" as a fundraiser for his charitable foundation "The Light Foundation".
"There's also the Wallum Lake Rod and Gun Club for shooting enthusiasts," Roy said.
Spooky Sights
"For those who like a little spooky history, Burrillville is known for many haunted locations," Roy said.
The most notable is the real-life house on which the movie "The Conjuring" is based. Not long after a family moved into the secluded farmhouse in the Harrisville section of town, they started experiencing strange paranormal activity.
Eat, Drink & Be Merry
"There are plenty of restaurants in town and you can easily find food for all different tastes," Roy said.
One of the most popular places to chow down is Wright's Chicken Farm.
"People drive from all over to eat at this restaurant, which serves everything family-style," Roy said.
Blackstone Valley Tourism Council says the family-style chicken dinner - like the one served at Wright's - consists of roasted chicken, salad, pasta, potato, and rolls and is unique to the region.
"Born at the home of Italian immigrants in Woonsocket in the 1930s, this inexpensive meal of roasted chicken is the solution for family and friends, who'd love to get together, drink homemade wine and play Italian lawn bowling game of bocce during the Depression years."
A place for homecooked food, this restaurant's name says it all.
According to one reviewer on Trip Advisor, "If you want jam raspberry made from scratch, home-style hash, slab bacon, gluten-free English muffins, and organic eggs in large portions that are absolutely delicious, this is the stop for you! The coffee is bold and the prices reasonable. Definitely worth the trip!"
Despite the recent pandemic, Excellent Breakfast has continued to be a staple for people in town.
"I have been honored to be able to stay open through COVID-19 and provide a fresh, handmade, local meal option for a hardworking town packed with essential workers," said owner Stella Chalkiadakis.
As the name implies, this restaurant is located across from the waterfall in historic Harrisville. Not only is it a great place to enjoy breakfast, lunch, or dinner, you can also stop by for a craft cocktail at the bar.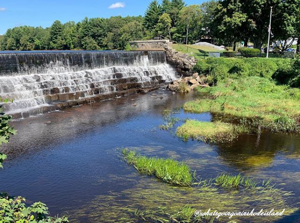 "The staff makes you feel like you're apart of their family. So open and welcoming," one Facebook review said. "The food is great and the service is better! Always updating their drink menu with new and exciting drinks! One espresso martini will turn any frown upside down!"
The restaurant is so cozy, it has not yet been able to reopen due to spacing guidelines. It hopes to reopen during Phase 3.
This diner has been in the same location since 1935, serving homemade food every day.
From Memorial Day to Labor Day, Johnny's serves real southern BBQ on Friday nights until 8 p.m.
"Our Pitmaster learned from the great Myron Mixon (look him up, he's pretty famous!) and will prepare everything from baby back ribs to 12-hour brisket, pulled pork to smoked chicken wings - all flavored with the sweet taste of apple and oak wood, low 'n slow like it should be. We have all the sides too!" the restaurant said.
"Superb red clam chowder, luscious fish and chips, and fresh hot coffee are a joy to behold at this charming, adorable, cozy local diner in our equally charming home town of Burrillville, RI," one review said on Trip Advisor. "Service is warm, friendly, and superb as well. Prices are reasonable and comfortable to the wallet."
This locally owned and operated Ameri-Mexican taco-burrito joint is not your classic Mexican fare.
"We're an inventive and unique take on tacos and burritos," the restaurant said.
"Perfect quick and healthy food for our busy family! Especially love the specials...we always look forward to taco night with the Taco Shop," one Facebook review said.
Roy also recommends George's Pizza 'n Pub - located in the Pascoag section of town.
"I love the staff here. They are family to me," one reviewer on Facebook said. "The food is delicious. Best pizza in town. Generous servings. Waitresses are awesome and hard working. Five stars from me."
Serio's Pizza is also located right in Pascoag serving pizza, Italian foods, and grinders, as well as appetizers, desserts and cocktails.
One Facebook reviewer said, "We Love Serio's and have been going there for over 20 years! The owners and staff make it a great place to dine with family and friends. The seafood, grinders, dinners, and pizza are awesome!"
If you're looking for a place for bigger functions, Burrillville has options for that as well.
"Not only does Crystal Lake have a beautiful golf course, but it also has a great restaurant and wedding venue," Roy said.
Their open-air pavilion is also a great location for a cookout, clam bake, or dinner buffet.
View this post on Instagram
Not only does Bella Restaurant have a dining room where you can enjoy authentic Italian fare, but they also have a banquet room that holds up to 180 people, making it a great location for weddings and other special occasions. Bella also offers catering options.
If Burrillville sounds like your idea of a great place to live, Kazantzis Real Estate can help make this town your home. Check out our recent listings.