Bucolic. Peaceful. Family-friendly. Those are just some of the words used to describe Coventry, Rhode Island.
Located right off I-95 in Kent County, Coventry is less than an hour from Providence and New London and just a little over an hour from Boston and Hartford.
"Coventry is the perfect location for families or people who like rural living, but who don't want to be too far removed from the hustle and bustle of city and suburban life," said Kazantzis Real Estate Owner and Agent Andrea Kazantzis.
"For those who love the outdoors, there are lakes and walking trails. But there are also vibrant shopping centers, both big box and independents, as well," said Kazantzis Real Estate Agent Jennifer Lehto.
Pond Life
When you mention Coventry, many people immediately think of Johnson's Pond.
"I was born and raised in Coventry and it is still one of my favorite towns," said Megan Eddings, founder and CEO of Accel Lifestyle and Coventry High School graduate. "I moved away to Texas about 15 years ago, but Coventry is still one of my favorite places to visit. Amazing food and Johnson's Pond are just two parts of Coventry that I love."
The 659-acre lake is actually a reservoir that was created by damming the south branch of the Pawtuxet River where it's joined by the Flat River.
It's an ideal location for peaceful, lakeside living - for both full-time residents and those with vacation homes - as well as a popular destination for various water sports.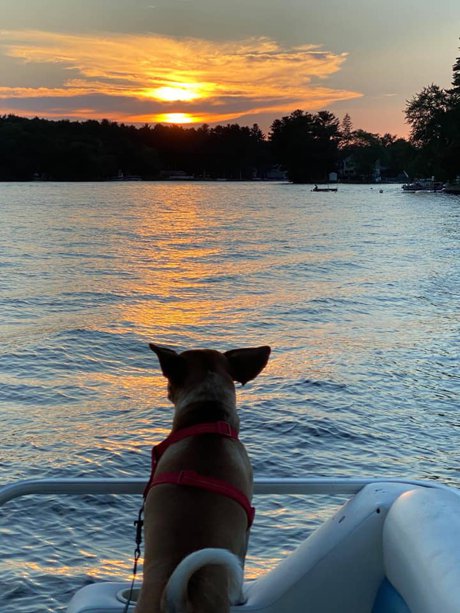 "I have enjoyed Johnson's Pond since I was a kid waterskiing on the pond with friends, then raising my own kids on Johnson's Pond and teaching them to waterski and having them enjoy growing up here," said lifelong Coventry resident Mike Durand, founder and past owner of Coventry Lumber. "Having the ability to enjoy kayaking, fishing, swimming, sunset boat rides and a spin on the jet ski are all special things on Johnson's Pond."
Durand, who still lives on Johnson's Pond with his wife, said it's a vibrant, active community.
"Now, in retirement, I continue to enjoy pond life and all it offers. We love the fireworks on the 4th of July and Labor Day weekends, the annual ski show and the summer concerts on the pond," Durand said. "Coventry is a very special community. Everyone is very friendly and neighborly here."
Even if you don't live directly on the pond, some communities have community beach areas on the pond.
Johnson's Pond isn't the only game in town. There's also Quidnick Reservoir, which is a popular spot for fishing and kayaking.
If you like to keep your feet on the ground, there's the Maxwell Mays Wildlife Refuge, which is more than 295 acres of diverse wildlife habitat.
For history buffs, there's the General Nathaneal Greene Homestead. Now a National Historic Landmark, the location was home to the Revolutionary War general from 1770 to 1783.
Sense of Community
Coventry is a tight-knit community with a definite small-town feel.
The fire department has an Annual Christmas Parade where firefighters drive Santa through the different communities to see the kids.
Speaking of the kids - Coventry is also known for its school system.
"I moved my family to Coventry in 1994 and it has turned out to be a great place to call our hometown. There are great neighborhoods and families throughout the town and a strong sense of safe community," said Bill Finnegan, Coventry resident, and owner of Finetco (the parent company of Coventry Lumber). "Our kids all went through the school system from elementary right through high school and had a great experience with teachers who care and administrators who are very committed to the kids."
Lehto also pointed out that the town is well-policed and also has quick access to the airport and South County beaches.
If you are interested in making Coventry your home, check out some of our listings.