If you want to live in a small town, but be close to some of the state's largest employers, Griswold may just be the place you're looking for.
Kazantzis Real Estate Agent Tina Luft has lived in Griswold since she was 13.
"My parents bought here because my Dad was in the Navy and it is a short drive to the Sub Base," she said. "Griswold has many things that buyers look for in a town."
Family-Friendly Environment
Griswold has three schools - elementary, middle, and high school - all on the same campus.
"People love that," Luft said. "Griswold High School has a very advanced drama department. They produce some of the most elaborate plays I have ever seen. They truly are like going to a professional play."
In addition to youth rec teams, Luft said the Griswold Rec Department holds many family-friendly events in town, from the annual Easter egg hunt to Truck or Treat at Halloween.
"Griswold offers a summer camp, and a youth center that is open every day after school, many many health programs like yoga and Zumba, as well as many other activities in town," Luft said. "It has something for everyone."
The Great Outdoors
Luft and Kazantzis Real Estate Agent Denise Moore both said Griswold has a lot to offer for the outdoor enthusiast.
Pachaug Pond in Griswold is Eastern Connecticut's largest pond at over 800 acres.
"There are great ponds like Pachaug and Hopeville Ponds where you can swim, boat, fish, relax," Moore said. "There are many hiking trails through the state forest to explore as well."
Griswold is also home to Pachaug and Hopeville State Forests.
According to the town's website, "at Hopeville State Park, you'll find a campground, beach, and boat launch. In both Pachaug State Forest and Hopeville State Park, visitors enjoy hiking trails that wind through lovely meadows, along scenic brooks, over wooden bridges, and deep into the cool, welcoming woods."
If you like to fish, Luft said bass fishing tournaments are held at a number of the ponds in town.
Fields of Flowers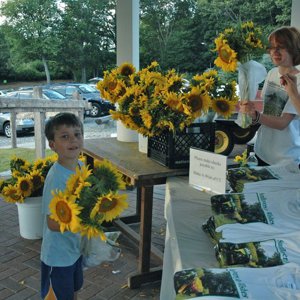 "We are also a country farm town. With over four large running farms in Griswold, it still gives you the feeling of living in the country but very close to all large employers so your commute is reasonable," Luft said.
Buttonwood Farm is one place you'll have to take the family.
"Family-owned since 1975, we're famous for farm-fresh ice cream and growing sunflowers for a good cause," the farm said on its website.
Each year, Buttonwood said it plants more than 14 acres of sunflowers, harvesting about 300,000 blooms. For a $10 donation, you receive five flowers. All of the proceeds from the sunflowers go to the Make a Wish Foundation of Connecticut.
While you're at the farm, you'll want to enjoy Buttonwood's farm-fresh ice cream. According to the farm's website, they have more than 50 flavors.
In addition, the farm has pasteurized beef and pork available for sale. In the fall you can enjoy their corn maze, pumpkin patch, and take a ride on their cow train.
Delicious Eats
If you love pizza and gyros, The Point on 138 is the place to go.
Each week the restaurant features cuisine from a different country.
"Born and raised in NYC, the world's melting pot, we had the pleasure of experiencing some delicious foods of various cultures. When we moved to Griswold, we vowed to share that experience with our guests," the restaurant wrote on the back of its menu.
While the dining room is currently closed, the restaurant is open for takeout and deliveries.
Moore also suggests Tulli's Taphouse.
"Tulli's Tap House Gastropub has your cravings covered! Come enjoy Chef Calvin's menu, start with a delicious appetizer and entrés, mouth-watering desserts," the restaurant said on its website.
Located on River Ridge Golf Course, the views from Tulli's deck are spectacular.
As with all restaurants, the dining room is closed. But Tulli's is available for takeout. You can even order bottles of wine or cans of craft beer with your meal!
Griswold shows that you don't have to choose between city and country. It's definitely possible to have the best of both worlds!
Additional Resources:
http://www.griswold-ct.org/visit-us.html
http://www.griswold-ct.org/about-our-town.html
https://www.norwichchamber.com/griswold-ct.html