The quaint New England town of Putnam, Connecticut is nestled on the banks of the Quinebaug River. From amazing restaurants and cafes to family-friendly events year-round, Putnam may just be the place you want to call home.
"I love Putnam! The downtown area is vibrant and chock full of different, locally owned businesses," said Kazantzis Real Estate Agent Keri Roy.
Attractions and Events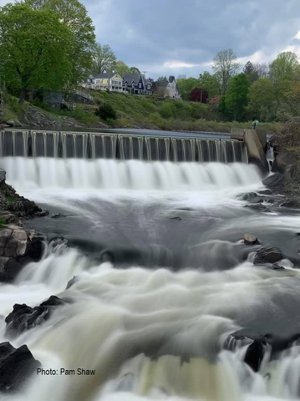 The River Mills Heritage Trail winds its way for 1.1 miles around the Quinebaug River. According to the town's website, "the trail links six historic mills and celebrates Putnam's roots in a river-powered economy.
"River Walk is a great walking path that runs along the river and has a dog park," Roy said.
The Putnam Lions Memorial Dog Park gives fido a chance to pal around with other dogs.
"The benches in the shade are also nice for pet parents to socialize while watching their dogs. Donated toys and water make this an amazing dog park," one dog owner said on the park's Facebook page.
The dog park is open during social distancing, however, dog lovers are asked to keep six-feet apart from others.
"Putnam does a lot of outdoor events such as First Fridays during the summer featuring a different theme each time. They host a classic car cruise on Main Street, river fire, and The Great Pumpkin Festival in the fall," Kazantzis Real Estate Agent Val MacNeil said.
The town also has a Downtown Trick-or-Treat night and a Zombie Fashion Show for Halloween. In the winter, you'll want to check out the Fire & Ice Festival. In the spring and summer, several RiverFire events.
If you love drama, Kazantzis Real Estate Agent Michelle Pivin said, "Don't forget the Bradley Playhouse Theater!"
According to its website, "The Bradley Playhouse is a 117-year-old vaudeville theatre in the heart of the Putnam antiques and restaurant district in the 'Quiet Corner' of Northeastern Connecticut. "
"Downtown also has several antique shops and unique gift shops," Roy said. "For those looking for a sweet treat, there are also two gourmet candy shop."
Eats & Drinks
When it comes to locally owned places to eat, drink, and be merry, Putnam has something for everyone.
"The best thing, you can park and walk to any and all of these places," Roy said.
"85 Main is my favorite with a mix of sushi and raw bar and American cuisine."
According to the restaurant's website, "85 main was created with the goal of offering fresh, quality seafood and steaks along with locally grown produce in an atmosphere one might expect to find in a "big" city. The emphasis is on fresh ingredients and cooked-to-order menu items. The interior of the building was completely remodeled, creating a warm, inviting, and casual dining environment. During the warmer months, the outdoor patio is open for dining."
The restaurant is currently offering take out and patio dining until 9 p.m.
MacNeil said The Courthouse Bar and Grill is definitely worth a visit.
"This place has great pub food!"
Located in a historic building built in the late 1800s, the restaurant said its "menu and atmosphere have been designed with a courthouse and antique theme in mind. However, it is the food that will keep you coming back. We HAND-CARVE all of our steaks and seafood in house daily and prepare our entire menu from scratch to ensure that you receive the highest quality product available!"
"Victoria Station is a cute little bakery with fresh baked goods, amazing coffee and cafe drinks, and homemade ice cream," Roy said.
Victoria Station also offers light lunch options as well.
"The best part is that everything is made and baked right here at the cafe! We offer free wifi to our patrons, and a very cozy atmosphere to hang out with friends," the cafe said on its Facebook page.
"Head down the hill a little and you will find the cutest little restaurant, Elizabeth's Farmhouse," Roy said.
However, you may have to wait a few weeks to enjoy this Putnam staple. After trying to serve takeout for a few weeks, the restaurant said it decided to temporarily close.
"We have re-written menus and tried to cook what will travel well, but the truth is when you get home and open your packages what you are seeing and hopefully enjoying is not really Elizabeth's Farmhouse fare. so we have decided to close, just for a bit, until we can open and be true to ourselves and what we believe service and genuine, gracious hospitality is.
Breweries and Nightlife
"Located in the same building plaza as 85 Main and Victoria Station, Bear Hands Brewing Company is perfect for craft beer lovers," Roy said. "Right across the street a brand new upscale Irish pub The Hare and The Hound will be opening soon."
Bear Hands is currently offering curbside pickup Thursday-Sunday and hopes to open its patio by the end of the month.
"Across the way is The Crossing Brew Pub and Jessica Tuesday's, both great restaurants and all of these have outdoor patio seating which makes it a great block to 'hop' in nice weather," Roy said.
The Crossing just reopened its outdoor patio.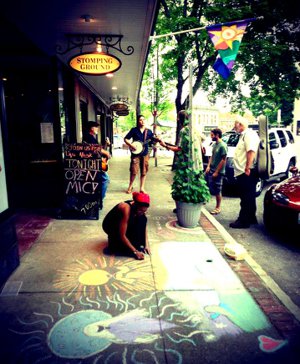 If you love live music, you'll have to check out The Stomping Ground.
"The Stomping Ground reminds me of a speak-easy and always has great live music," Roy said
"Located in the heart of the budding town of Putnam, CT, The Stomping Ground is a new music and art venue, serving food and libations, but with a focus on live performances and contemporary art," the venue said on its website.
The Stomping Ground is currently offering curbside takeout and growlers and hopes to open outdoor seating soon. It has also been live streaming music on it's Facebook page.
These are just a few of the amazing places to eat and visit in Putnam. If we've piqued your interest, here are some current listings in town »