Let's be honest - there's only so much Tiger King you can watch. If social distancing has you feeling like the walls are closing in - organizing your space may help.
Don't know where to start? Take a deep breath and start small.
"Organizing your home can be overwhelming," said Kazantzis Real Estate Agent Val MacNeil, who is also an interior designer. "Do only one room at a time and start with a small area such as your kitchen pantry so you'll feel accomplished and motivated to move onto bigger projects once you've finished."
MacNeil said there are simple things you can do in each room to get better use of the space.
Pantry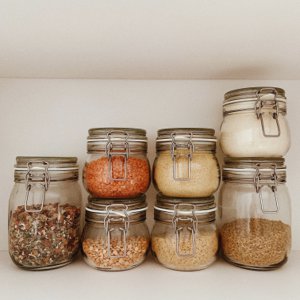 In the pantry, MacNeil suggests using clear jars with labels for cereal, rice, pasta, etc. so you can see when you're getting low.
Small, wired baskets mounted to the door can hold easy to grab snacks.
To make better use of vertical space in your pantry and cabinets - Good Housekeeping suggests getting a shelf riser. You can also stack cans sideways for more space.
Bathroom
In the bathroom, use separate baskets for first-aid supplies, medicines, hair products and the like, to be able to locate them in a pinch.
To keep your vanity clutter-free, the blog Graceful Order suggests hanging small shelves to hold toiletries.
Bedroom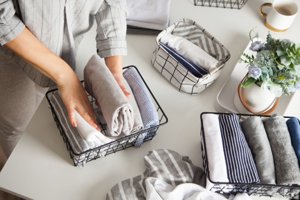 In the bedroom, MacNeil said using the exact same hanger and organizing your clothes by color is not only appealing to the eye but makes it easier to find what you're looking for!
If you want to get those dresser drawers under control, try file folding your clothes. You may have seen Marie Kondo doing it. It takes some practice, but once you get the hang of it - it's a life changer!
Garage or Mudroom
In the garage - or any entryway - MacNeil says you can use school lockers, one for each family member to store sports equipment, snow gear, etc.
She suggests adding a bench with a boot tray underneath to encourage them to remove their shoes before coming indoors.
Good Housekeeping suggests getting items off the floor of your garage by installing overhead racks on the ceiling where you can store holiday decorations, bulky luggage, or skis in the offseason.
Family Room
Good Housekeeping suggests adopting the one in, one out rule. Basically, when your kids get a new toy or game, an old toy needs to be tossed or donated.
Instead of stacking board games on a shelf, the blog Joyful Homemaking also suggests using a hanging organizer. Not only does it keep them out of sight, it also lets you avoid a Jenga-like pile.
Your Car
Before social distancing, many of you probably lived a good portion of your life in your car. To organize the trunk chaos, The Castro HAPPYnings blog suggests using shower organizers from the dollar store. There's a pocket for anything a busy parent, or outdoor enthusiast, could want - from bug spray to snacks.
There are a ton of ideas online for organizing your space. You can buy organization containers or use what you already have on hand. The possibilities are endless. The most important thing - like MacNeil said - is to take baby steps so you don't get overwhelmed and quit. You got this!