Lake Chargoggagoggmanchauggagoggchaubunagungamaugg. We may not be able to pronounce the real name of Webster Lake. However, we can tell you it's a truly special place to visit and an even better place to make your home away from home.
"Webster Lake, which is made up of three ponds, and its 17 miles of shoreline are great for all water activity," said Kazantzis Real Estate Agent Keri Roy.
According to Webster Lake Association, the lake - which is the largest natural lake in Massachusetts, Connecticut and Rhode Island - includes three smaller bodies of water (North Pond, Middle Pond, and South Pond) which are joined by narrow channels.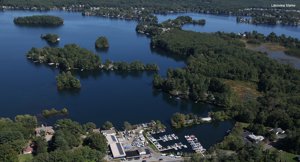 As for the pronunciation, many believe the name means "You fish on your side, I fish on my side, and nobody fishes in the middle." However, according to WLA, "a more accurate translation seems to be something like: 'English knifemen and Nipmuc Indians at the Border or Neutral Fishing Place' or 'Englishmen at Manchaug at the Fishing Place at the Boundary.'"
Lake Activities
Memorial Beach - located on the northwest shore of the lake - is the perfect place to go if you want to sit by the water for the day. It also has two boat ramps if you want to take watercraft out.
If fishing is more your speed, Mass Wildlife said Webster Lake has produced Largemouth Bass, Smallmouth Bass, Chain Pickerel, bullhead, Black Crappie, Yellow Perch, White Perch, Sunfish, Rainbow Trout, Brook Trout, and Tiger Trout.
"While more and more people are choosing to live on the lake year-round, summer is absolutely magical on Webster Lake," said Andrea Kazantzis, owner of Kazantzis Real Estate. "The 4th of July fireworks show is amazing, especially when you're on a boat."
If you don't have a boat or other watercraft, not to worry. In addition to boat sales, Lakeview Marine also offers seasonal kayak and paddleboard rentals, as well as boat slips.
Restaurants
For those who'd rather order (not catch) their next meal, Webster Lake is home to some amazing restaurants, many of which you can pull right up to by boat.
Waterfront Mary's is a staple of Webster Lake, serving up delicious brick oven pizza, sandwiches, and seafood.
It also has live entertainment, three lakefront bars, and a beautiful function room.
"It's a great place time sit on the lake and have a pizza and a few ice-cold beers," one reviewer said on Facebook.
Point Breeze first opened in 1881 as a private men's sailing club on the shores of Webster Lake. It's now a year-round seafood restaurant, destination function facility, and entertainment venue.
"Always a great place to enjoy Fantastic food, delicious drinks, superb service, excellent entertainment & amazing ambiance," one reviewer on Facebook said.
According to its website, Point Breeze offers "a panoramic lake view, great food, and always friendly service making us the place where families meet."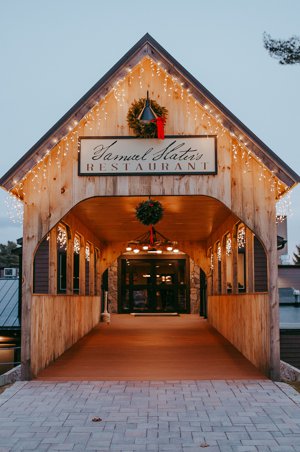 It's not every day you find a fine dining experience at a campground.
Samuel Slater's Restaurant offers modern American cuisine bringing "a new waterfront dining experience to Webster, MA."
How's this for a nice touch, not only is the restaurant offering takeout by car - it's also offering dockside pickup.
"We will package up your meal and deliver right to your car or boat. No need to get out of your vehicle or come in contact with anyone," the restaurant said.
Entertainment
If you visit Webster Lake, you have to go to Indian Ranch.
During the season Indian Ranch runs a summer concert series with a fantastic lineup in their amphitheater down by the beach. Season campers can enjoy the concerts for free. You can hear the live music from your boat. Or, if you are lucky enough to make the Webster Lake area your home you have an incredible concert series basically in your backyard to enjoy.
The campground is open May 1 through October 15 and is available for the day, week, month, or season.
If you want to take a step back in time, you'll definitely want to take a lake cruise on the Indian Princess, a large paddle-wheel boat that does dinner cruises and different events on the lake.
"Docked at Indian Ranch, The Indian Princess is a modern-day replica of the grand riverboats that plied the Mississippi River in the late 19th century," Indian Ranch's website said. "Cruising out of Webster, MA, she is one of the few authentic paddlewheel riverboats still in operation in the United States today."
If we piqued your interest, check a few of the homes we have listed along Webster Lake. You won't be sorry!