There's a reason why celebrities like Taylor Swift, Conan O'Brien, and even the legendary Clark Gable chose to have homes in Westerly's Watch Hill.
The quaint seaside town in Rhode Island - with incredible beaches, great golf, great local restaurants, and pubs - is like living in a vacation destination year-round.
"A great comparison would be Maybury USA by the sea. Though it has many retail businesses, it has a hometown feel where everyone knows each other and you feel safe," said Christopher T. DiPaola, owner of WBLQ Radio in Westerly. "Its historic downtown is full of charm with excellent shopping by day, and a vibrant nightlife after hours."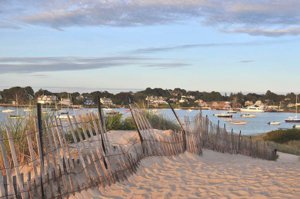 Westerly, with a year-round population of 21,000, is a small town. However, Providence, Boston, Connecticut, and New York City are nearby - making it a great place for commuters who want a small-town experience. Mystic Seaport, Mystic Aquarium, and both Foxwoods and Mohegan Sun casinos are also super close and Block Island is a simple day trip with flights by New England Airlines.
While there are a lot of options nearby, you don't even need to leave town to have fun outings.
"From downtown to Watch Hill to Misquamicut and Weekapaug, Westerly has so many distinct sections in one small area. There truly is something for everyone," said Andrea Kazantzis, owner of Kazantzis Real Estate.
Downtown
Downtown is chock full of restaurants and shops.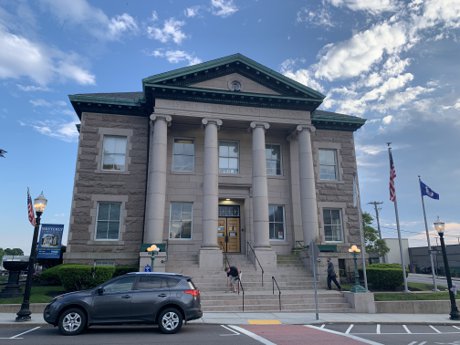 "I love the quaint village of Westerly with Wilcox Park to walk around and shop all the village shops as well as dine in town," Kazantzis said.
Kazantzis Real Estate Agent Frances Rose agrees.
"I have been fortunate to have spent time in Westerly," Rose said. "The vibrant downtown shops district is thriving and has its own energy. It's very walkable and full of a diverse selection of small businesses and restaurants."
Some of the restaurants DiPaola recommends include Guytanno's, The Brazen Hen, Casa Dela Lucce, and Kelley's Deli.
If you want to take in a play after dinner, you have to check out the Granite Theatre - a year-round playhouse located in a beautifully restored church.
Watch Hill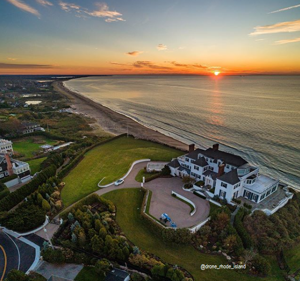 Watch Hill is a vacation within a vacation. Just ask Taylor Swift. The pop star has a vacation home (seen right) in this area of Westerly. When in town, she can often be seen in local restaurants and shops, like the Olympia Tea Room. For the past several years, she's hosted a star-studded July 4th bash.
"There is nothing that compares to Watch Hill! You should just leave your watch and smartphone in the car so time can seem to stop," Rose said.
If you love nature, get lost in Napatree Point Conservation Area.
"It's a mile and a half peninsula of pure wild beauty," Rose said. "Then meander back to Bay Street for a lobster roll and possibly celebrity watching in the laid back summer touristy vibe."
For the family, you can visit the Flying Horse Carousel.
"It's the oldest continuously operating carousel in the United States," Kazantzis said.
You can also make a stop at the Watch Hill Lighthouse and Museum. The lighthouse has served as a nautical beacon for ships since 1745 and is now a historical landmark.
Speaking of landmarks, one of the most iconic locations in Watch Hill and Westerly as a whole is the beautiful Ocean House.
This award-winning inn is the first and only AAA Five Diamond and Forbes Five-Star hotel in Rhode Island. The Ocean House's OH! Spa and its Coast Restaurant are also Forbes Five-Star rated making the Ocean House a triple Five-Star resort - one of 13 resorts in the world with this honor.
"If you can, you should try Ocean House's jazz brunch on Sundays or check out their movies on the beach for family fun," said Kazantzis.
Weekapaug
Right near Watch Hill is Weekapaug - home to summer cottages and oceanfront homes. The Winnapaug and Quonochontaug salt ponds open to the Atlantic Ocean via a breachway lined with rock jetties.
The Weekapaug Inn - located right on Quonochontaug Pond - is a quintessential New England hotel that offers farm-to-table dining "which utilizes the finest and freshest ingredients, locally sourced from Westerly and throughout Rhode Island."
If you're looking for seaside dining, DiPaola recommends Venice Restaurant.
Misquamicut
If you're looking for the fun boardwalk experience, you have to head to Misquamicut.
"This area of Westerly has a very relaxed, casual feel," Kazantzis said.
While there, you can grab a drink or a meal right on the beach at The Andrea - a Misquamicul staple that often features live music or pack the car and head over to the Misquamicut Drive-In Theater for movies on Misquamicut Beach.
Festivals and Vineyards
DiPaola - who lives in Westerly with his wife and three sons - says there's no shortage of family outings.
Some of his favorites include the Virtu outdoor Art Festival, Springfest, Fallfest, Pawcatuck River Duck Race, Santa's Arrival.
If you want to enjoy a night out with the family the Ocean Community Chamber of Commerce puts on movies on the beach each summer. Although it does not look like they will be able to host these incredible family-friendly nights in 2020 due to COVID-19, they will surely return in 2021.
If you want to leave the kids with a sitter, there are also several nearby vineyards including Jonathan Edwards, Stonington Vineyards, and Salt Water Vineyard. Right in Westerly are the Tapped Apple Cider & Winery and Langworthy Farm, which also has a bed and breakfast.
If Westerly sounds like the place you'd like to call home. Kazantzis Real Estate has plenty of listings in this town.
Misquamicut Beach and Drive-In photos courtesy of Misquamicut Beach Association. Taylor Swift home and Ocean House aerial photos courtesy of @Drone_Rhode_Island. Carousel photo courtesy of Elyse Press Major. Napatree photo courtesy Stephen Cersosimo of Granite Photo.