"Tranquility, history, and pastoral good looks." That's how the guidebook "1,000 Places to See Before You Die" describes Woodstock, CT.
While it's the second largest town in the state area-wise, Woodstock - with a population of fewer than 8,000 people - is perhaps the quietest community in Connecticut's "Quiet Corner."
The town has more operating dairy farms than any other town in Connecticut and is also home to craft shops, restaurants, and some light industry.
"Lush farms, rich history, and small-town living make Woodstock an amazing place to live," said Kazantzis Real Estate Owner and Agent Andrea Kazantzis. "From amazing farm stands to scenic parks, I love when I get to spend time in this community."
Agriculture is a huge part of Woodstock's identity. In fact, throughout the year, the town has several events celebrating this way of life.
The Woodstock Fair - with an average attendance of 150,000 - is one of the oldest and largest agricultural fairs in New England. It's typically held each year on Labor Day Weekend. However, it's canceled for the 2020 season.
Another big event in town - Celebrating Agriculture - is celebrating its 20th anniversary this year. While it's not canceled, the event is going virtual in 2020 due to the ongoing pandemic. From September 1 to September 26, organizers are planning "virtual activities and physically distanced experiences that will continue to promote agriculture throughout The Last Green Valley."
If you want to visit a real, working dairy farm, Fairvue Farms offers tours. The farm - which is located next to the historic Woodstock Fairgrounds - has expanded its herd from 40 cows to more than 1200 Holstein milking cows.
Woodstock Orchards LLC is a family-owned and operated fruit and vegetable retail stand also offering pick-your-own apples and blueberries on a seasonal basis. Nestled in the beautiful rolling hills of Woodstock, all of the orchard's fruit and vegetables - including asparagus, tomatoes, cucumbers, specialty garlic, peaches, and plums - are grown on-site and picked at peak ripeness. Talk about farm-to-table fresh.
If you like a little wine with your agriculture, you'll want to stop by Taylor Brooke Winery. Part of the CT Wine Trail, Taylor Brooke has tastings, tours, and a gift shop.
While there are no traditional wine tastings offered at this time, wine flights are available, as is wine by the glass and bottle. Beer and wine are also available for curbside pickup.
A Step Back in Time
Established in 1949, Woodstock is steeped in history.
Built in 1846 in the newly fashionable Gothic Revival style, Roseland Cottage was the summer home of Henry and Lucy Bowen and their young family.
The house- recognizable by the home's pink exterior - is a National Historic Landmark. While indoor tours are temporarily on hold, the estate is currently offering outdoor tours and private garden tours. The town's Recreation Commission also hosts Summer Twilight concerts on the grounds. In the fall, the Roseland Cottage Arts & Crafts Festival is held the weekend after Columbus Day.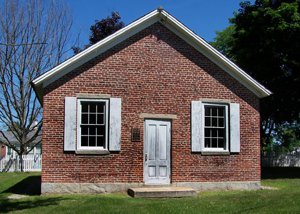 Quasset School is a historical early American one-room schoolhouse. It serves as a living museum used by Woodstock school children. In third grade, students spend a week in the Quasset School learning about Woodstock history and experiencing what school life would have been like in the 1800s.
Outdoor Fun
Woodstock has plenty to offer the outdoor enthusiast.
The town features several campgrounds, parks, and lakes, four of which (Muddy Brook Pond, Black Pond, Crystal Pond, and Roseland Lake) are accessible to the public.
Historic Roseland Park consists of 390 acres of forested land, manicured lawns, sports fields, public golf course, amphitheater, group campground, fishing dock, and playgrounds. The park is private property, however, it is open to the public.
Town Beach is located on Muddy Pond (which is sometimes referred to as Pond Factory). The man-made lake covers 38.3 acres and is a popular spot for swimming, fishing, canoeing, and picnicking. It's also used for birthday celebrations, parties, and even weddings.
Crystal Pond Park is 120 acres along Crystal Pond and features swimming, picnicking, fishing, boating, ice skating, hiking, cross-country skiing, and horseback riding.
Woodstock has several public campgrounds, including Beaver Pines Campground, Chamberlain Lake Campground, and Solair (a family-oriented nudist resort.)
If you love flowers, check out the Palmer Arboretum.
Owned by the town and maintained with the help of volunteers, the 100-year-old arboretum features interesting trees, shrubs, plants, and a native shade garden. Several of the trees date back to 1914 or 1916, among them the huge purple beach and the grove of cypresses.
For those lazy Sunday drives, you'll want to cruise down State Route 169. If you'd rather spend your weekend on the course, Woodstock also has two public courses - Woodstock Golf Course and Driving Range across from Roseland Park and Harrisville Golf Course. There's also a new 18-hole Frisbee Disc Golf Course located at Camp Nahaco.
Good Eats
With so many farms in town, it's no wonder why there are several amazing spots to grab some food.
Sweet Evalina's Stand on Route 169 has a deli, groceries, ice cream, soups, wraps, grinders, salads, and thin-crust Italian pizza.
In fact, Connecticut Magazine named this restaurant a "hidden gem."
"A favorite tucked away in the Quiet Corner, Sweet Evalina's offers a variety of fresh-prepared fare throughout the day but the locals rave about the thin-crust New York-style Pizza. The owners regularly create different kinds of gourmet pies, and strive to offer-terrific, casual fare."
For the coffee lover, there's Java Jive. This spot serves more than 20 different blends of gourmet coffee, as well as full breakfast, lunch, desserts, and gourmet foods.
"Great friendly service! I had a cappuccino and some breakfast... DELICIOUS! I especially enjoyed the sausage with my eggs," said one reviewer on Facebook. "Looking forward to trying the corned beef hash, next time. I'll Be Back!!!"
For the fancier night out or even a weekend getaway, there's The Inn at Woodstock Hill. This unique bed and breakfast inn is home to a fine dining restaurant serving gourmet lunches, exquisite dinners, and Sunday brunches. The Inn at Woodstock Hill is also a great setting for weddings and receptions.
One Facebook reviewer said, "We were warmly cared for and the food was amazing! All the veggies tasted like they were fresh out of the garden (which in fact they were!). All the staff went above and beyond but our server was exceptional!"
Come Visit Us
Woodstock is also home to a Kazantzis Real Estate office. We'd love to have you as a neighbor!
Kazantzis Real Estate has several listings in Woodstock right now. We're also licensed throughout Connecticut as well as in Rhode Island and Massachusetts. Contact us today for a showing!