Nestled in the northeast part of the state, Connecticut's Quiet Corner is practically untouched by time. But, don't let the name fool you. This quaint region is chock full of luxury destinations, including vineyards, spas, fine dining, and boutique inns and bed and breakfasts.
Pomfret
Stone walls, scenic country roads, and a quaint collection of restaurants, farms, and shops make Pomfret a quintessential New England Town.
"Pomfret is a very scenic town made up of old farmlands with beautiful fieldstone walls everywhere you look," said Kazantzis Real Estate Agent Val MacNeil. "It's centrally located to Boston, Providence, and Hartford. Wonderful schools, both private and public make it a great place to raise a family."
Pomfret is a definite stop on the Connecticut Wine Trail.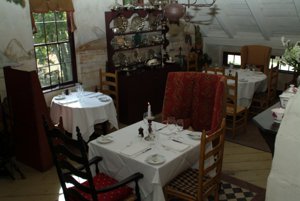 It's home to Sharpe Hill Vineyard, the maker of Ballet of Angels. According to the vineyard, the vintage is the most popular wine in New England.
"I love going to Sharpe Hill for a wine tasting or even just for dinner," said Kazantzis Real Estate Owner and Broker Andrea Kazantzis. "The wine is amazing, the food delicious and the scenery spectacular."
In addition to award-winning wines - the vineyard has racked up more than 450 medals in international tastings - Sharpe Hill said its Fireside Tavern was featured in Connecticut Magazine's cover feature "50 Dishes to Try Before You Die," for its Creole Shrimp entrée.
Our other favorites in the town include Grill 37 and the Vanilla Bean Cafe
Putnam
The quaint New England town of Putnam, Connecticut is nestled on the banks of the Quinebaug River. From amazing restaurants and cafes to family-friendly events year-round, Putnam may just be the place you want to call home.
"I love Putnam! The downtown area is vibrant and chock full of different, locally owned businesses," said Kazantzis Real Estate Agent Keri Roy. "85 Main is my favorite with a mix of sushi and raw bar and American cuisine."
According to the restaurant's website, "85 main was created with the goal of offering fresh, quality seafood and steaks along with locally grown produce in an atmosphere one might expect to find in a "big" city. The emphasis is on fresh ingredients and cooked-to-order menu items."
The interior of the building was completely remodeled, creating a warm, inviting, and casual dining environment. During the warmer months, the outdoor patio is open for dining.
MacNeil said The Courthouse Bar and Grill is definitely worth a visit.
"This place has great pub food!"
Located in a historic building built in the late 1800s, the restaurant said its "menu and atmosphere have been designed with a courthouse and antique theme in mind. However, it is the food that will keep you coming back."
The restaurant hand carves all of its steaks and seafood in house daily and prepare the entire menu from scratch to ensure that you receive the highest quality product available.
For those with a sweet tooth, "Victoria Station is a cute little bakery with fresh baked goods, amazing coffee and cafe drinks, and homemade ice cream," Roy said.
Victoria Station also offers light lunch options as well.
Woodstock
"Tranquility, history, and pastoral good looks." That's how the guidebook "1,000 Places to See Before You Die" describes Woodstock, CT.
While it's the second largest town in the state area-wise, Woodstock - with a population of fewer than 8,000 people - is perhaps the quietest community in Connecticut's "Quiet Corner."
One of the biggest attractions in town is the Roseland Cottage. Built in 1846 in the newly fashionable Gothic Revival style, the cottage was the summer home of Henry and Lucy Bowen and their young family.
The house - recognizable by the home's pink exterior - is a National Historic Landmark. While indoor tours are temporarily on hold, the estate is currently offering outdoor tours and private garden tours.
For the fancier night out or even a weekend getaway, there's The Inn at Woodstock Hill. This unique bed and breakfast inn is home to a fine dining restaurant serving gourmet lunches, exquisite dinners, and Sunday brunches. The Inn at Woodstock Hill is also a great setting for weddings and receptions.
If you like a little wine with your agriculture, you'll want to stop by Taylor Brooke Winery. Part of the CT Wine Trail, Taylor Brooke has tastings, tours, and a gift shop.
Due to COVID restrictions, there is very limited covered and fire pit seating available (first come, first served). While traditional tastings are on hold, wine flights are available, as is wine by the glass and bottle. Beer and wine are also available for curbside pickup. https://taylorbrookewinery.com/
Brooklyn
When Kazantzis had children, she knew she wanted to move back to Brooklyn, Connecticut - the place she, herself grew up.
"Brooklyn is a tight-knit, laidback community - making it the perfect place to raise a family and run a business," Kazantzis said. "My dad opened Johnny's Pizza here in 1974. And this is the town where I opened my first Kazantzis Real Estate Office."
MacNeil said another great place to visit is the Creamery Brook Bison Farm.
"They do wagon tours through the working farm and you can also buy their bison meat, which is leaner and healthier than beef, or try a bison burger fresh off the grill," MacNeil said. "They also have delicious ice cream during the summer."
Creamery Brook described bison meat as the "original health food" with fewer calories and less cholesterol than beef, chicken, and turkey.
Sterling
With rolling farmlands, stone walls, and a population of just over 3,700 people, Sterling, Connecticut is the epitome of a quintessential small New England town.
"Located in Windham County, just a short drive from bigger cities, Sterling is the best of both worlds," said Kazantzis.
The Sterling Hill Historic District encompasses a well-preserved early 19th-century rural village center on the western edge of the town of Sterling, Connecticut. Centered at the junction of Plainfield Pike and Sterling Hill Road, it consists of a cluster of 19th and early 19th-century houses, and a church. Unlike other period villages, it has largely been unaffected by later development. It was listed on the National Register of Historic Places in 1986.
Thompson
If you're looking for the perfect example of a New England town, look no further than Thompson, Connecticut. Rich in history and with no shortage of amazing places to eat and fun places for family outings, it's a great place to visit and even better place to live.
"Bogey's Ice Cream is an absolute favorite ice cream spot in the summer," Roy said.
"Bogey's Ice Cream is known for its generous portions and great atmosphere," the eatery said on its Facebook page." Bogey's is a great place to take your family and friends for a burger and ice cream- be sure to order the home-made hand-cut fries with your food!"
Situated on a driving range, you can hit a bucket of balls while waiting for your food.
For food with a modern flair, Roy said you have to try Anya.
"This is my favorite sitdown restaurant in Thompson. From burgers to sushi, it's all delicious," Roy said.
"ANYA is a modern take on the traditional steakhouse and features contemporary seasonal dishes," the restaurant said on its website, "ANYA brings approachable sophistication to your dining experience. Enjoy a relaxed yet chic ambiance for an authentic and unique restaurant dining experience."
In addition to keeping people fed, Anya's owners are also busy renovating the William Mason House, a historic national landmark that will be a boutique hotel and wedding venue.
More About the Quiet Corner
15 Things to do In NE Connecticut